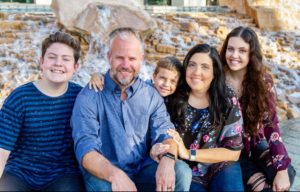 Founders: the Roekle Family
phone: 951.638.4170
email: info@graceandgloryacademy.org

Grace and Glory Statement of Faith: We believe there is only One True God, Our Father, The Creator of the Universe, Maker of Heaven and Earth, His Son and our Savior Jesus Christ, and the Holy Spirit, our Comforter and Counselor. We believe in the entire Bible, Old and New Testament to be the inspired, Holy Word of God. We believe in God's design for marriage, between one man, and one woman. We believe each person is created in God's image for the purpose of worshipping and serving Him, following His commandments and decrees.
About our Principal
Michaela grew up being home schooled from first grade through graduation. Throughout her youth and adulthood, she's worked in children's and ladies ministry, as well as worship arts, music/choir, photography, and homeschool administration for two schools. Michaela has been married to her husband Brad for 20yrs this fall and together they have three children whom they have homeschooled for the past 12yrs.
Grace and Glory was founded in 2013. In addition to running Grace and Glory, Michaela and her husband serve as Regional Advisory Board Members for CHEA of California (www.cheaofca.org).